You slap on your snorkeling gear, eagerly anticipating the tropical fish and colorful reefs that await as you enter the crystal-clear shallow waters.
Instead, you find yourself face to face with a sea of flippers, bleached coral and bright orange life jackets.
It can be frustrating to try to find a spectacular snorkeling destination that hasn't been taken over by crowds.
But not impossible.
We asked a few marine experts to share some of their favorite places to snorkel.
In these top snorkel spots you'll be bumping fins with reef fish, humpback whales and non-stinging jellyfish — to name just a few.
RAJA AMPAT (WEST PAPUA, INDONESIA)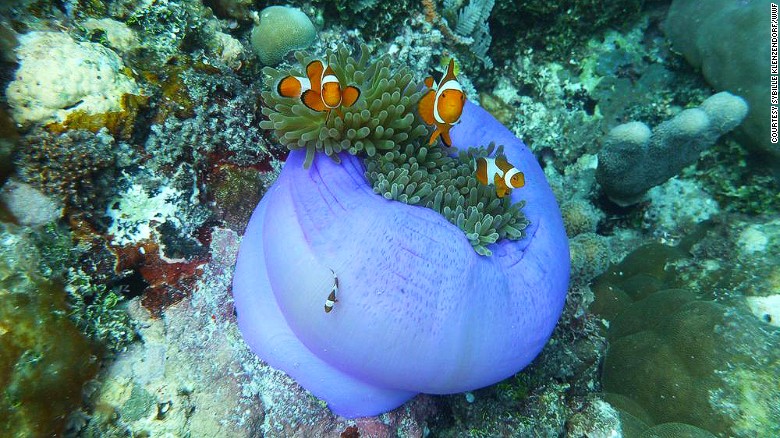 At the top of the list is Raja Ampat, or Four Kings, located in Indonesia's West Papua province.
Experts say it's hard to find anywhere else in the world that compares, given it's got the world's greatest concentration of marine life for a region of its size and 75% of all known coral species in the world.
A marine oasis with more than 1,000 different species of fish, sea turtles, sharks and manta rays, snorkeling here means largely having the place to yourself as the isolated islands are scarce of people.
Snorkelers come face to face with fish and coral in every direction while swimming the waters of this archipelago, which is made up of 50,000 square kilometers of islands and water.
"Each day you get to experience something different," says marine biologist and snorkeling guide Lee Goldman of Coral Triangle Adventures.

THE PHILIPPINES
Don't usually think of the Philippines as a "go to" destination for snorkeling?
WWF'S Sano stresses that it's one of the most beautiful places for underwater activity.
"Many of our frequent snorkelers have said that this was their favorite trip — they were delightfully surprised," he says.
Made up of more than 7,000 islands, the Philippines is home to one of the most populous and diverse ecosystems on the planet.
A notable standout is the Bay of Donsol, home to whale sharks — the world's largest living fish.
Visitors have the opportunity to swim next to these gentle and friendly giants.
Another area worth checking out is Noa Noa Island, which has thousands of colorful reef fish and thriving reefs.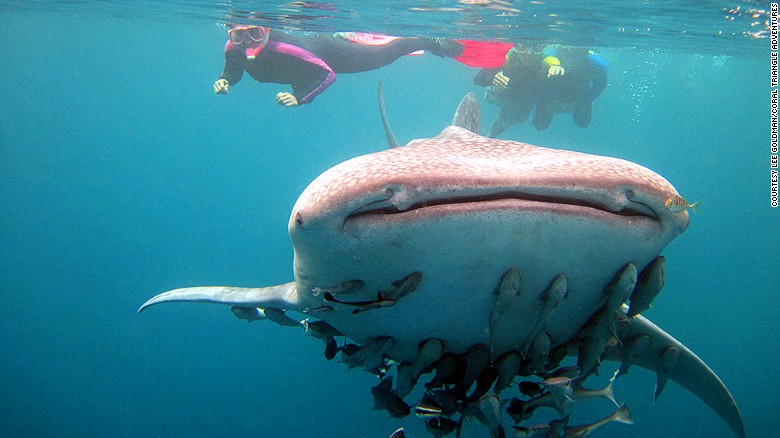 MORE: Swimming with whale sharks in the Philippines

KOMODO NATIONAL PARK (INDONESIA)
Though Komodo National Park's celebrity inhabitants steal the show — it's one of only five islands in the world where you can see Komodo dragons in the wild — the snorkeling here is not to be overlooked.
MORE: The world's most luxurious 'dragon' hunt
Being a World Heritage Site for more than 30 years, the reefs and islands of this Indonesia national park are heavily protected, giving their abundance of underwater life and corals a chance to flourish.
The area is also rich in nutrients, thanks to the cold water that flushes into the park from the Indian Ocean, keeping the marine life fed.
"You really know you're in a different part of the world when you're in Komodo," says Coral Triangle Adventures' Goldman.
Ever want to swim with jellyfish without having to worry about getting a nasty sting by one of them?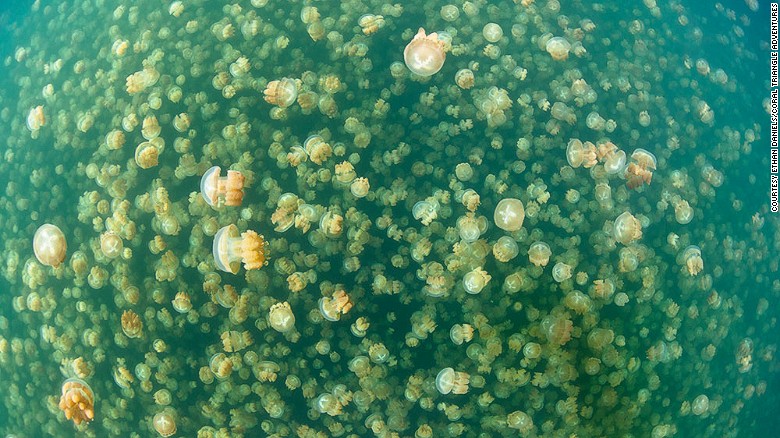 Palau's Jellyfish Lake is the place to go.
A boat ride and short hike will take you to this unusual and isolated lake, inhabited by millions of harmless jellyfish.
But it's more than jellies that make this Micronesia island a top snorkeling destination.
Palau's shallow and healthy reefs are home to a diverse range of habitat.
Visitors can encounter marine life such as turtles, tropical fish, manta rays and sharks.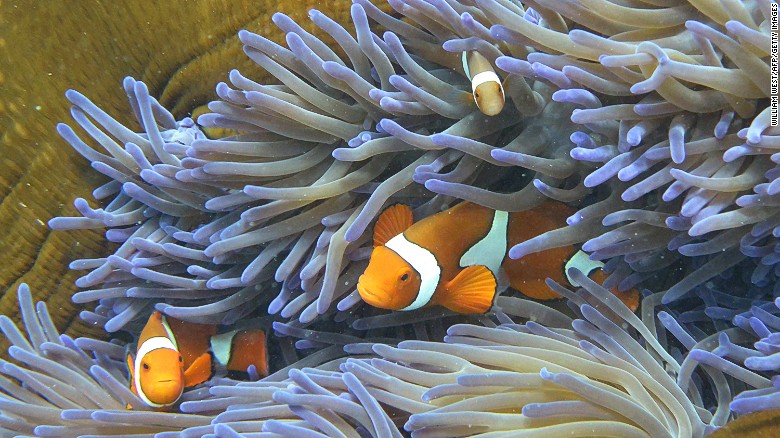 GREAT BARRIER REEF (AUSTRALIA)
Everyone's familiar with the Great Barrier Reef.
Yet its popularity isn't without substance nor should it be overlooked.
Made up of 2,900 individual reefs and stretching more than 2,300 kilometers, it's the world's largest coral reef ecosystem and has been around for half a million years.
The reefs here are easily accessible to snorkelers and filled with a diverse range of fish and coral.
The water is warm, making it the perfect environment to explore the unmatched underwater scenery.
Sadly, scientists say it could become extinct as soon as 2050 due to climate change.
Rising levels of carbon dioxide in the atmosphere are causing oceans to warm, they say, bleaching the reef's corals to death.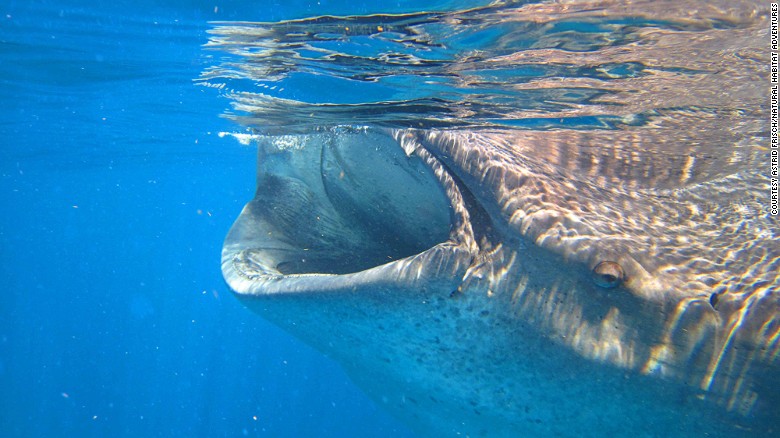 ISLA HOLBOX (MEXICO)
A sleepy island off Mexico's Yucatan Peninsula, Isla Holbox is the world's top destination for whale shark swimming, says Ted Martens, vice president of marketing and sustainability with Natural Habitat Adventures.
"These giant creatures are actually harmless," he adds.
During the summer months, the whale sharks swim near the surface and feed on plankton.
This is when snorkelers can swim next to the gigantic fish — some of which can reach up to 18 meters (60 feet) in length.
As for the island itself, it's famed for its sound eco-tourism practices.
There are no cars here — only golf carts.
You slap on your snorkeling gear, eagerly anticipating the tropical fish and colorful reefs that await as you enter the crystal-clear shallow waters. Instead, you find yourself face to face with a sea of flippers, bleached coral and bright orange life jackets. We asked a few marine experts to share some of their favorite places to snorkel. Read more…